One of the most common responses I hear about blogging is the sense of community. With common interests and a shared entrepreneurial spirit, bloggers just "get each other." We work with so many amazing bloggers so we decided to create an opportunity for bloggers to discover new friends and learn tips from each other. Our new series features a blogger and gives a glimpse into their life.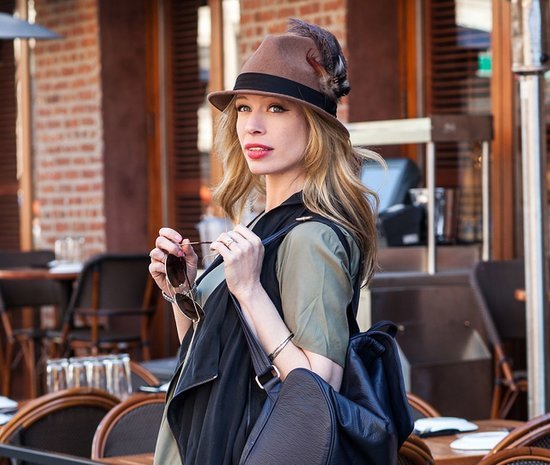 Meet Jordan, the brains behind Ramshackle Glam, a lifestyle blog sharing moments of Jordan's life with her husband and two young children. Jordan's authenticity and hilarious life stories will crack you up, and her style isn't too bad either. She's also the author of new book Ramshackle Glam: The New Mom's Haphazard Guide To (Almost) Having It All.
1. What is your best blogging tip for new bloggers?
Be consistently professional: your blog is a job, so treat it like one, and be as respectful, conscientious and organized as you would be if you were working in an office. Also, be grateful: it's a real gift, the chance to have others hear what it is that you have to say, and shoudn't be taken for granted.
2. If you weren't blogging and could do anything, what would you choose?
I would want to own a neighborhood hangout – a restaurant or a bar. I always had this fantasy of owning a late-night spot that served cocktails and amazing brunch-type food. Who wouldn't want Nutella-stuffed french toast to be their last stop before bed?
3. Who is your go-to brand/designer?
Honestly, I do about 99 percent of my shopping at TJ Maxx. I like the hunt and get all excited when I find a great price on a designer piece (and I love that I can pick up home decor pieces while I'm looking for clothing). I'm also really into Helmut Lang lately: simple cuts, beautiful fabrics, neutral colors.
4. What is your best fashion advice?
Find your "happy-place silhouette" – those pieces that you know you always feel great in, no matter what (for me, it's a loose top and slim-fitting pants or shorts), and stock your closet with beautiful, neutral pieces in those shapes. Add accessories for color, texture, and interest – it's a great way to keep your budget in check and to make sure that you always not only look great but feel great.
5. What is one thing you wish you knew before you started blogging?
Well, I didn't really know anything before I started blogging – the only blog I'd ever read was Perez Hilton, and I met with a friend the day before I started my blog to have her explain to me what a "hyperlink" was. . .but I actually think that worked to my benefit, because I wasn't trying to do it like anyone else. I do wish that I had started treating the site like a legitimate business from the get-go – keeping careful records, creating an LLC, maintaining separate business accounts, etc. I started doing that about two years in, but it would have been helpful to have done it from the start. One more thing: I wish I had invested in a DSLR camera right away. Even if your site isn't "about" photography, the visual element is hugely important. . .and offers another opportunity to tell a story.
6. What is one thing people would be surprised to know about you?
Even though I write about entertaining, I actually sort of hate throwing parties – they stress me out like crazy, and I tend to spend the whole time thinking about how much cleaning up I'll need to do later. Also, I can ride a motorcycle and used to drive to and from high school on a yellow Suzuki. That's kind of cool, right?
7. What is your favorite holiday tradition?
Mulled wine. Oh my goodness, that stuff is delicious.
Read more blogger spotlights:
Emily Jackson of Ivory Lane 
Kimberly Smith of Penny Pincher Fashion