Click below to view the video on how Product Widgets work!
You asked for the best and most efficient tools, so today we are giving you just that! We updated the analytics page with more information on your orders and clicks, and rolled out a revamped Widget Creation page that helps with some of the most common feedback we hear from you!
Presenting your new widget creation page! In the widget creation page, you'll be able to:
Save widgets and edit them later. Any changes you make to widgets will be automatically reflected on your blog!
Choose which product image to display in a widget.
Bookmark your most-often-used widgets so you can access them easily.
How to use the new Create page.
We have updated how you can create widgets, links, and videos — in the best way possible. Here's how to get started.
  Head to the "Create" button underneath the ShopStyle Collective logo in the top left corner.
 Click "Create Widget"
  Add items to a widget by searching for the item and clicking "add to widget."

You can also add items to a widget from an existing list. Click "My Lists" to see all the lists you've created. See detailed instructions here!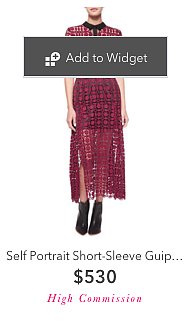 4.  You can now arrange the order of items and choose which product image you want to use in your widget!
5.  Click the Edit button and arrange the items as you wish.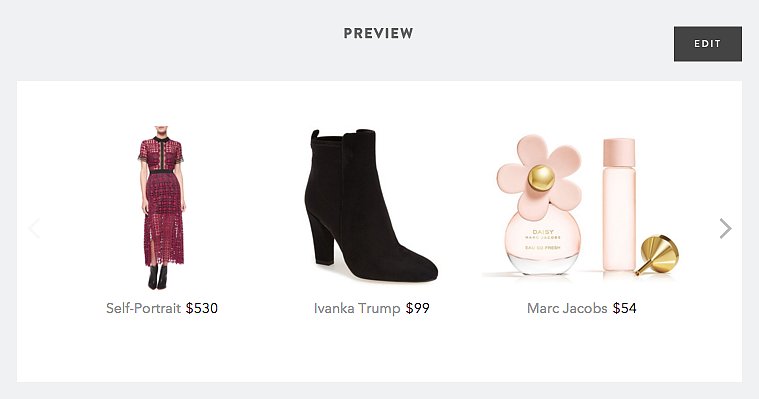 6.  To choose which product image you want to use in your widget, click the item, and click Choose.  Use the left and right arrows to choose a product image, then click Save. You'll see the new product image updated in your widget preview.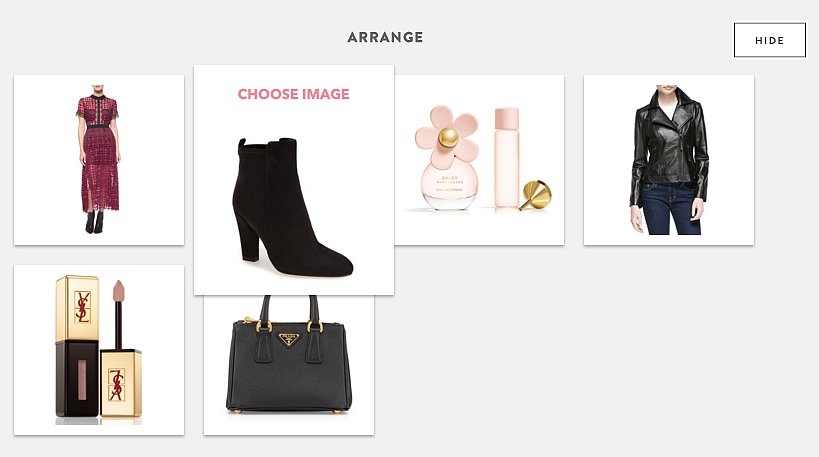 7.  You can also rename your widget by clicking the name of the widget.
8.  Click the Publish button at the top right to copy the embed widget code you just created.
9.  On the Publish page, click Save. You'll see your saved widget in the Saved Widgets list.
Save your widgets. You can now edit or star the widgets you use often. Best of all, when you make changes to a saved widget, you won't need to re-embed the code on your blog; it will automatically update with your edits! While you can't delete a saved widget, you can edit any of the ones you previously created. To bookmark widgets that you often use, click the star next to the widget name. You'll see a list of Starred widgets on the top of your Saved Widgets list.
Looking for the Link Builder tool? It's on the new Create page under Create a Link .
Want to add an item to a list? Start on the Search page.
If you are anywhere on the ShopStyle Collective platform and want to head back to your homepage, just click on the "ShopStyle Collective" logo on the top left corner.
What do you think? Please test out the new tools and let us know! Send us your feedback and questions to help@shopstylecollective.com.
xo,
Carlina & the ShopStyle Collective team